Spiritual Alchemy – Suggested Books
Spiritual Alchemy
To order books online, click on bookcover.
The Alchemy of Prayer: Rekindling Our Inner Life
by Terry Lynn Taylor, Nancy Carleton (Editor)
Hardcover (October 1996)
H J Kramer; ISBN: 0915811707
The Alchemy of Sacred Living: Creating a Culture of Light
by Emory John Michael
Paperback – 263 pages (1998)
Mountain Rose Pub; ISBN: 0964214725 
For a complete listing of discounted alchemy books, visit www.Crucible.org/Books.htm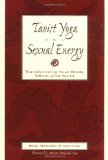 Taoist Yoga and Sexual Energy; Internal Alchemy and Chi Kung
by Eric Steven Yudelove, Mantak Chia
Paperback – 312 pages 1st edition (2000)
Llewellyn Publications; ISBN: 1567188346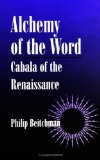 Alchemy of the Word: Cabala of the Renaissance
by Philip Beitchman
Paperback. 364 pp. (1998)
State Univ. of New York. ISBN: 0791437388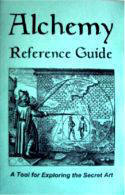 Alchemy Reference Guide
This handbook is an invaluable tool for those seeking to understand the profound and mysterious art of alchemy. It contains a comprehensive dictionary of alchemical terms, guide to alchemical ciphers and symbols, charts of alchemical correspondences, and a free downloadable TrueType alchemy font set with key code chart. ISBN 0-9637914-6-X 5×9-Booklet. $5.95. Item #847.

Alchemy & Mysticism
This book is a pictorial presentations of the spiritual practice of alchemy as it appeared in the Middle Ages. Full of stunning alchemical images, most in full color. The author interprets each image, but all that is necessary is to meditate on the images, as most have the power to speak directly to the depths of the mind. Taschen 1997. ISBN: 382288653X. 712 pages. $29.99. To order online, click on bookcover.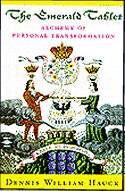 The Emerald Tablet: Alchemy for Personal Transformation
This book details the rediscovery of the mysterious artifact and reveals the chemical-spiritual formula hidden in its lines. Also contained are the alchemists' startling predictions for the new millennium and chapters on the mystical and paranormal experiences that reflect the deep changes undergone by people who have actually seen the hidden reality of which the tablet speaks. Click More Information to see what others are saying about this book. Penguin 1999. ISBN 0140195718. Illustrated; indexed; 448 pp. $16.95. Item #888. To order online, click on bookcover.
Sorcerer's Stone Beginner's Guide to Alchemy)
This book is the first basic primer on this subject, in which alchemy's secrets and powers made accessible to everyone with the desire to experience physical, mental, and spiritual transformation. By providing clear explanations, moving meditations, and hands-on experiments making tinctures and elixirs, this beautifully illustrated guide passes on the knowledge and creative energy of alchemy's magnificent discipline—sending a golden arc of learning from thousands of years in the past into your life today. Hauck presents a fascinating history of alchemy – from the ancient Emerald Tablet to modern quantum chemistry – and elaborates on its arcane principles in an intimate, conversational way that anyone can understand. His portrayals of individual alchemists (like Flamel, Fulcanelli, and Isaac Newton) bring them alive and show how they built on each other's work through an "Underground River" of secret knowledge passed down through the ages. Citadel Press, June 2004. Illustrated; 240 pages. ISBN 0-8065-2545-2. $12.95. To order online, click on bookcover. More Information.